Tagless labels have become a go-to solution for apparel brands looking to decorate garments with branding and required care information without the need for external tags. By printing directly onto the fabric, tagless labels create a seamless interior appearance. There are several printing techniques that work well for applying images, logos, and text directly onto clothing as tagless labels.
Screen Printing For Tagless Labels
Screen printing is one of the most common methods used for t-shirt tagless labels. It provides an opaque print that adheres durably to cotton and poly-cotton blend garments. A screen containing the label design is pressed against the garment and ink is forced through the mesh onto the fabric. Screen printing allows printing of large areas at high volumes, making it ideal for tagless t-shirt labels. The resulting print is thick and durable, resisting cracking and fading even after repeated washing.
Heat Transfer Vinyl
Applying cut vinyl in the shape of the label is an accessible option for tagless printing. The vinyl contains the label graphics and is heat pressed onto the garment using an industrial heat press or home iron. The heat causes the vinyl to bond securely with the fibers. Heat transfer vinyl can work on cotton, polyester, nylon and other synthetics. It provides a soft, flexible print. Intricate label details and colors are possible.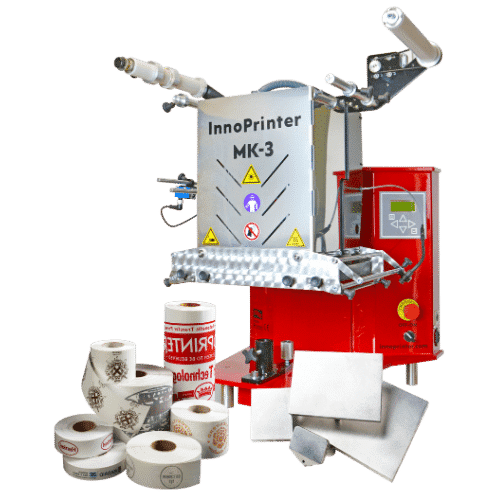 If you want to do mass printing for your printing business you can always look for our revolutionary technology Innoprinter which allows you to print all kinds of tagless labels on your garments in a very short time and efficient way. The Innoprinter technology presents a practical dry printing system that is characterized by its clean result, as it requires no handling inks. This printing system leaves the garment totally dry and ready to manipulate at some truly affordable costs.
Direct to Garment (DTG) Printing
DTG printers allow on-demand tagless label printing using specialty inkjet technology. Instead of screens or vinyl, these machines print the label directly onto the garment. DTG uses a digital file to print lightweight but high resolution labels in full color. It works on both light and dark colored fabrics. DTG is suited for small custom batches rather than high volume orders. The prints have good wash durability.
Dye Sublimation Printing
Dye sublimation is ideal for performance fabrics containing polyester. The printing process infuses dye into the garment at the molecular level, resulting in a soft tagless print that stretches and flexes with the fabric. The print becomes nearly a part of the garment rather than sitting on top. Sublimation excels at gradients, photographs, and allover patterns. The prints resist fading and cracking even after repeat wash and wear.
CAD Cut Printing Method
CAD cut printing uses a computer-controlled blade to cut label designs from specialty material like flock, reflective vinyl, or heat transfer material. The cut label pieces are then heat applied onto the garment as the tagless print. CAD cut printing allows unique finishes like flocked labels and high visibility reflective prints. The prints maintain breathability and stretch.
Thoughtful design paired with the right printing method allows brands to implement tagless labels that meet legal requirements while providing comfort and aesthetic appeal. As technology progresses, these printing techniques will continue expanding possibilities for innovative tagless labels.
Most Suitable Garments for Tagless Labels
The smooth printing surface and moisture-wicking properties of synthetic fabrics make them the most suitable for tagless labels. Other ideal garments include:
T-Shirts – Cotton, poly-cotton blends, polyester
Underwear – Nylon, polyester, spandex blends
Activewear – Lycra, polyester, moisture-wicking blends
Socks – Nylon, poly-blends
Stretch Fabrics – Spandex blends, knits
Heavier or textured fabrics like denim, canvas, and wool tend to be less suitable for a smooth tagless print.